Similar to finding the right service it is really hard to find the Best IPTV Player for Firestick as well.
Because there are probably hundreds of applications available that can be used to watch Internet Protocol TV on various platforms. But the problem is not all of them are supposed to work as they mention there because most of these apps are nothing more than junk.
That's why to avoid this problem I have used multiple applications for different subscriptions and even tried different ways to log in to my account. However most of them were useless that's why I have simply collected those that works pretty fine and offers various features like EPG, DVRs etc.
If you are interested in getting the right service for you then just don't forget to read this article until the very end and don't miss anything here. In case if you do miss something then you might not be able to get the right player for you, still, if you are lazy then you should simply scroll to the conclusion section.
What is IPTV Player?
An IPTV Player is an application used to watch Live TV channels, Movies and Web-Series from an IPTV provider. These apps don't offer anything on their own but rather requires Xtreme Codes API or an M3U playlist for streaming.
A user receives this information through email from the provider once they purchase the service and after that, a user will be able to log in to its account within a player.
When the user is logged into any IPTV Player app then the app will download the list of Movies, TV Shows and Web-Series to provide them in one place.
Except this, most IPTV players support the TV Guide where users can check the schedule of upcoming TV Shows if the provider offers EPG.
Some players offer multiple users capability where you can add different services and manage them at once place without consuming more storage by installing multiple apps.
Additionally, these players can also support the multi-screen feature where you can watch TV Show, Sport etc on a single device, the maximum number of screens is 4.
Some Internet Protocol TV sellers offer users their own application which personally I don't like because these are quite outdated that's why I am here to provide some use apps instead.
Best IPTV Player For Firestick 2022
When it comes to getting the right IPTV player for Firestick we probably had too many apps available out there. Although most of them are useless that's why I have only listed those that are working fine.
These applications support all the basic features like EPG Service, DVR, offers VODs and much more. You should simply read the review of each app to get the right app for you to have all the features you need.
Although keep in mind that these are only players that don't offer anything by themselves but rather a previous subscription in order to stream channels. If you are willing to get yourself a subscription then check: Viewsible IPTV.
XCIPTV Player
Best, free, fully customizable media player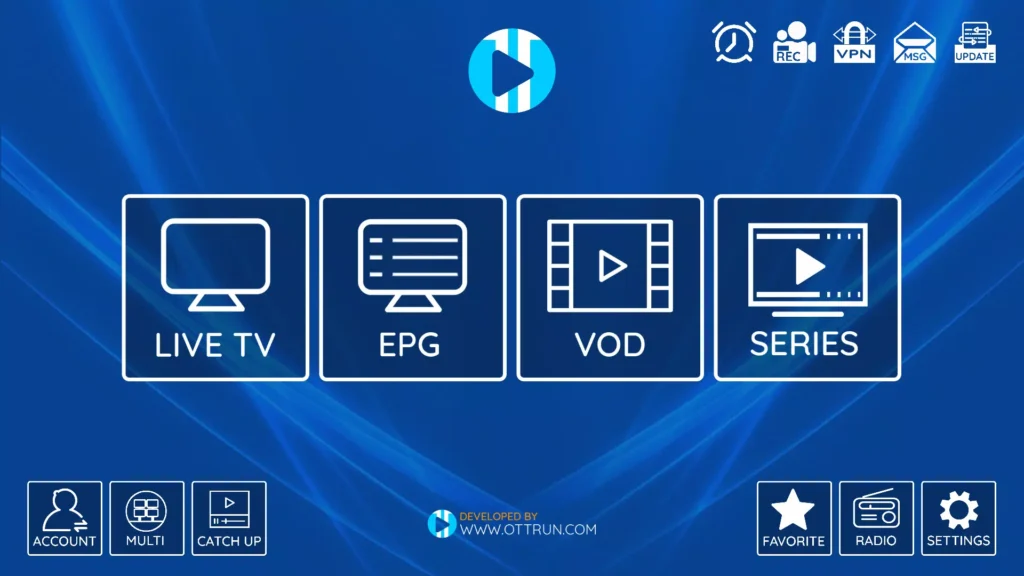 XCIPTV Player for Android is an alternative to Android's standard media player. It has built-in support for streaming, video on demand, catch up TV, and recording content to internal or external memory. The electronic program guide (EPG) is just one feature of this excellently well-equipped player.
What is XCIPTV Player?
XCIPTV is an app for Android that's similar to Android's default media player. It doesn't provide any content itself, so you're responsible for providing it through your satellite/cable company. This app can play content from OTT (over the top) broadcasters that are available in your location. XCIPTV can even give you program reminders through the EPG.
How much does it cost?
It's free to download the app, with costs for watching media depending on the specific provider that you're using. Always remember that you must only watch paid content that you have a legal right to.
How do I set up XCIPTV Player?
Getting the app set up on your Android phone is extremely easy. Follow these steps:
Install the app on your phone
Once you've opened the app, enter the IP address of your content provider
Set up an account through the app
Wait for your content provider to connect the app
Where can I get XCIPTV Player?
The app currently available in the Google Play store. You can also do a web search for the developer OTTRUN and download the APK from their site. Once you have XCIPTV Player, you'll find that it has ExoPlayer and VLC Player built-in so you won't need any additional software.
Is there a pro version?
Yes, and there's plenty more features in the pro packages. The monthly pro package gives you much more control over your account, notifications, and customization. The lifetime pro option provides the same content as the monthly subscription but includes only one year of 24/7 support. After a year, you'll fall back to the "email and ticket support."
Our take
XCIPTV Player is one of the best IPTV players due to its feature set and its clean, professional-looking UI. Because it's fully compatible with Android smartphones, TV, and tablets, as well as Fire TV, you have an amazing selection of screen sizes to maximize your enjoyment. If you're looking for alternative IPTV players, two of the most fully-featured are TiviMate Player IPTV and Smarters IPTV.
Should you download it?
Yes. If you're searching for a hub for all your video and streaming needs, XCIPTV Player is a fantastic choice
How To Install XCIPTV App on Firestick/Fire TV [User's Guide 2022]
Pros
Fully compatible with a range of Android devices
Clean, user-friendly UI
EPG with program reminders
Parental controls
VLC is a completely free IPTV Player.
Works with M3U Playlist URL and as well as File.
Manage channels easily even while watching TV.
It has a remote-friendly user interface.
The application is officially available on Google PlayStore.
Searching for the channels is easy.
Can be used to watch local stored Videos or Audio too.
Cons
TiviMate IPTV
TiviMate IPTV Player is yet another application that I had tried on my device before posting it here and probably it is one of the great apps.
This app is currently available for the Android TV, Set-top boxes, Streaming sticks only but in future, they might release a version for the mobiles too.
Basically, this app is quite like Smarters Pro as it supports M3U Playlist, Xtream Codes API and Stalker Portal. It also features multiple playlists but that is a premium feature which makes me a bit disappointed. But if this doesn't concern you at all and you are the average user then this won't bother you much.
However, you will simply love this application because it works just fine with the remote control as it is focused on the TVs only. It also features a search option where you can easily find the channels and even the current airing TV shows. TiviMate also provides you with Electronic Program Guide Support.
This app supports the external player where you can keep this setting for TV Shows, Vods or Live channels which is a good improvement. It is a limited application but if you purchase a premium version then you will know the actual worth of this app so if you do love watching TV then you should probably buy TiviMate Premium.
Pros
Supports Xtream Codes API, Stalker Portal and M3U Playlist.
It is designed for the TV so using it is a lot easier.
Simple and easy to use user interface with modern design.
Provides Electronic Program Guide for 14 days.
External player support for VODs, Live Channels separately.
Search between channels or currently Airing Programs.
Offers multiple playlist support features (for the premium version).
User can save their favourite TV channels.
Provides launch to play any channel you set on the app.
Cons
No multiple playlist options for free users.
EPG doesn't update automatically in the free version.
It is not available in the Amazon App Store yet.
IPTV Smarters
IPTV Smarters is also known as the Smarters Pro is my top pick for the list of the best IPTV Players for Firestick. This offers a great experience while watching any live TV channel and has a simple interface. It is compatible with both touchscreen and also remote-based devices that mean using it on TV won't be any trouble.
IPTV Smarters is a smart way to manage your subscription because it allows users to add 4 different profiles from multiple subscriptions. Despite that, it offers a multiscreen watch feature where you can watch Sports, News at the same time as it offers up to 4 screens.
Another thing that makes it top of the list is because Smarters Pro offers multiple ways to log in to your account. It supports Xtream Codes API, M3U Playlist URL/File, Load Data From Storage, Play Single Stream. With this, you can simply choose the login method that suits you the most and start streaming.
Overall this application is quite amazing and easy to use even with the remote control. It also offers EPG, DVR and Muti Screen support but the drawback of this app is that the parental control options are premium now. Except for this, you can load external EPG with a paid version which is still Ok because many IPTV providers come with built-in EPG.
How To Install IPTV Smarters Pro on Firestick
Pros
Offer users to add up to 4 different profiles.
It provides a multi-screen watch feature.
Supports EPG (Electronic Program Guide).
This works with Xtream Codes API.
Supports M3U File and URL too.
It is completely legal and safe to use.
This can be downloaded and used for free (some features are premium).
Easy to use with the Remote Control.
Can be used for Digital Video Recording (DVR).
Cons
This is not available on the Amazon App Store yet.
Parental Control is paid which is a very bad thing.
Perfect Player IPTV
Perfect Player IPTV is yet another app that we can use to manage our IPTV subscriptions on FireTV Stick. This is a free app officially available on App Store and on Google Play Store but there is a paid version too that unlocks premium features. With this, you can manage multiple accounts on a single device without any problem.
Perfect Player uses the M3U, XC, XSPF as a URL to log in to your account with depending on what your service provider offers. It also uses XMLTV, JTV for the Electronic Program Guide unlike Smarter Pro that supports XML, CSV & HTML. One thing that I didn't like about this player is the user interface, they need to work on it and make it more user friendly.
However, once you installed this app and start using it for a couple of weeks then I am sure you will understand it. Now in case if your service provider offers EPG then the Perfect Player will automatically download it for you. Once the downloading is completed you can see the upcoming events for a few days your provider offers.
Overall this is a good application for watching live TV channels from your internet provider along with the EPG support. However, the problem is that the Perfect Player is not yet announced for the Firesticks. But don't worry because we can still use this app simply using the sideloading method.
Pros
Various features of Perfect player are completely free.
You can use multiple accounts with this application.
Supports M3U, XC, XSPF for playlist URL.
It has an option to upload an external TV Guide.
This app automatically downloads EPG from the provider.
PiP mode is added to watch TV while surfing channels.
It also supports multiple languages.
Comes with the DVR to record your favourite channels.
This app is also available for Windows and Linux.
Cons
Doesn't offer the Xtream Codes API login method.
The User-interface is outdated and confusing.
There is no parental control even in the paid version.
The app is not available in the Store so sideloading is the only option.
What's The Best IPTV Player For Firestick
This is it for today's article and since you have made it this far it is safe to say that you already know about the best IPTV players for Firestick. It is because above I have shared some players that I have already used along with my Viewsible IPTV subscription and used both M3U and Xtream Codes API too.
However, some apps don't support the login through Xtream Codes while on the other hand some apps only offer 1 login to their customers for free. Internet Protocol TV relies on the player as it won't work on its own that's why to make sure to get an app that offers a live TV experience.
Some apps provided here might not offer the experience that you are willing to have that's why first read about it and see what is missing there or what are features are offered by them. Although in my opinion, XCIPTV Player is the best app because most of its features are free and also offers multiple logins.
It can be used to manage 4 different accounts and also offer multi-screen to watch 4 TV channels or VODs at the same time on a single device. Although if you are a normal user then the TiviMate would be a great choice for you because it is designed for bigger screens.