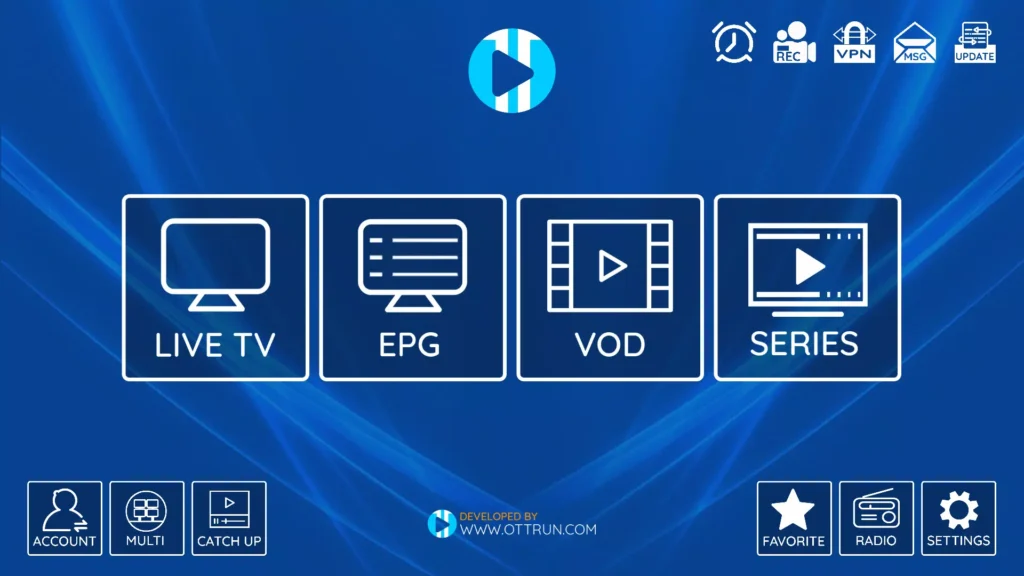 FireTV Stick is being used all over the world and there are many people who want to install their favourite apps but don't know the process. So, in today's guide, I am going to share with you a complete instructions guide on how to install XCIPTV App on Firestick and Fire TV.
This is the most requested topic as many people wanted to install it but they cannot find it on the App Store. However, this is a legal app and is already available on other platforms like Google Play Store, iTunes App Store, etc.
But the problem is Amazon hasn't added it yet and no one knows the reason behind this. This is the reason why you can't find this app on the Search menu or even trying Alexa's assistant. Perhaps there is still a way to get XCIPTV App which is sideloading.
Sideloading is prohibited in Firestick so make sure to have jailbreak this device and then start reading this again. However, for complete instructions on how you can perform it or what does this term means you can check out this guide: What is Jailbreak & How To Sideload Apps on FireStick
What is XCIPTV App?
XCIPTV App is an application that is used to access and manage channels from different IPTV services. Basically, this app doesn't provide anything by itself but rather it helps to use one or more accounts on a single device to access Channels, Movies, or Shows from them.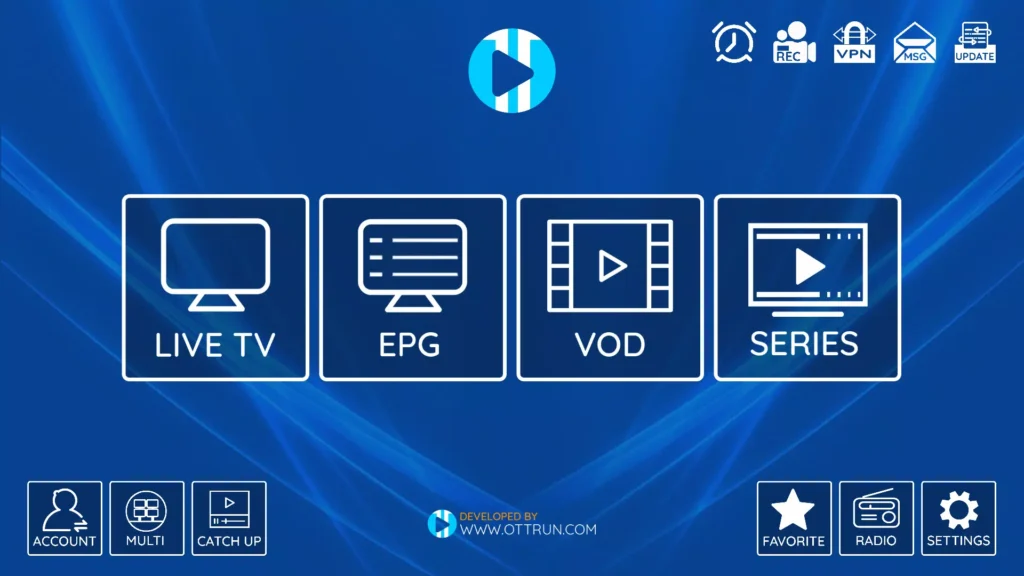 XCIPTV App is similar to the Smart IPTV which is paid but this app is completely free to use. This application is basically used to collect all IPTV's at once and manage them without having several different apps.
Although the login process on this app is way easier as compared to any other service because you just need to type the username & password along with the URL of that service. Furthermore, you can only use the services that support the M3U playlist or either Xstream Codes (XC) API.
If the IPTV you are using supports one of these features then you are lucky as it will work here. Otherwise, it is useless for you then just leave this guide and find another. This app comes with an easy-to-use and remote-friendly user interface so you don't get disturbed by the remote.
How To Install XCIPTV App on FireStick
As we have already discussed earlier that the XCIPTV App is a legal app that can be downloaded on any iOS or Android device just by going to their App Stores. But since Amazon doesn't have it in their Store then there is only one way of installing which is sideloading.
Sideloading of third-party apps is prohibited in Firestick in this way we have to first enable these Unknown Source features. By enabling this feature we can download and install XCIPTV App using any other app with no issue.
First, follow the below guide to enable Unknown Source, and then we will move towards the installation section:
1. Close all the apps and from Home Screen hovers to the above menu, and then click on Settings.
2. After this you need to move forward to see more options and from here select My FireTV.
3. At this time just scroll down and then open Developer Options.
4. Here you will see two more options and from there click on Apps from Unknown Source.
5. Right after clicking on that feature it will show a warning message just ignore it and click Turn on.
Now the installation of Unknown Source is enabled which means we can now sideload XCIPTV App on FireTV Stick. So, without wasting any more time let's head to the installation guide that is given below and make sure to read the steps twice before following.
In this guide, we will use an app called Downloader that is available on the App Store. This app is popular among those who used to sideload third-party apps. The user interface of this app is quite easy and remote-friendly as well.
Instead of just downloading apps or other stuff you can also use it as a web browser to access the various websites. You can consider it while searching for any app that you cannot find.
Ok, so below are the steps on how to install XCIPTV App on Firestick:
Launch Firestick and from Home Screen hover to the above menu and then click the Search or Magnifying Glass icon.
Now from here using the virtual keyboard type Downloader or else use Alexa Voice assistant by pressing the mic button on Remote.
Open the first result having an orange background (else check the screenshot attached below).
At this time you need to click on Download (You Own it) button.
Now just wait for a while until your apps start downloading and when it's done you will see Open. When that button appears just click on it to launch Downloader on your device.
When launching the Downloader for the first time you will be asked to allow permission to Access Media, Files, Photos, etc then click on the Allow button.
After this, you will see the box appears where it requires you to type an address for the app to download. Hover to box and click select to launch keyboard and then type this six digits downloader shortcode: 772499 and then click Go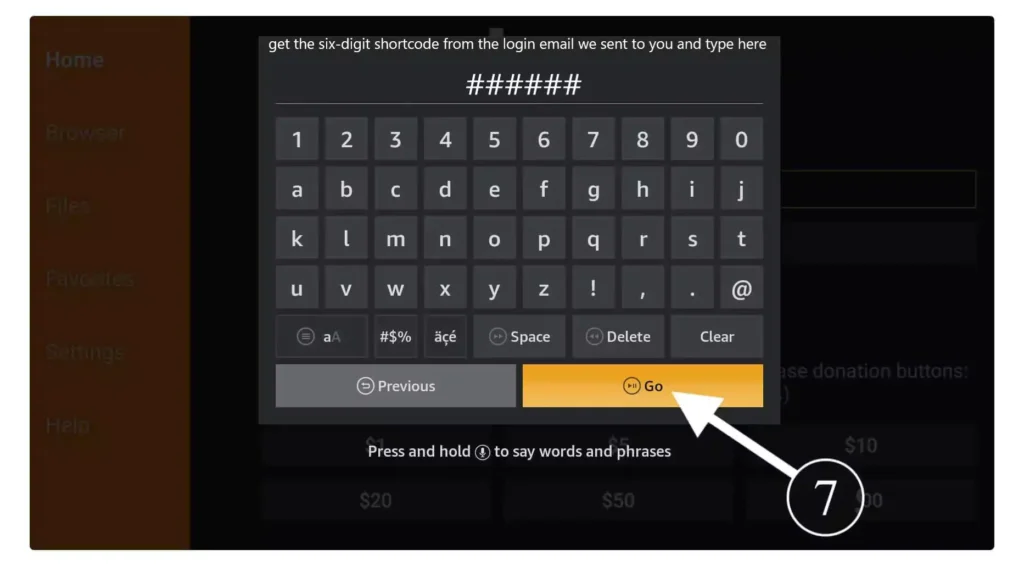 After clicking on the Go button the app will start connecting to the server and right after this, your download will begin.
Depending on your internet speed the app will take time to download and when it completed you will see the installation windows appears there. When that window appears now click on the Install button located near Cancel.
Now wait for some time until it installed and when it's completed just click on the Done button as we are not going to launch it now.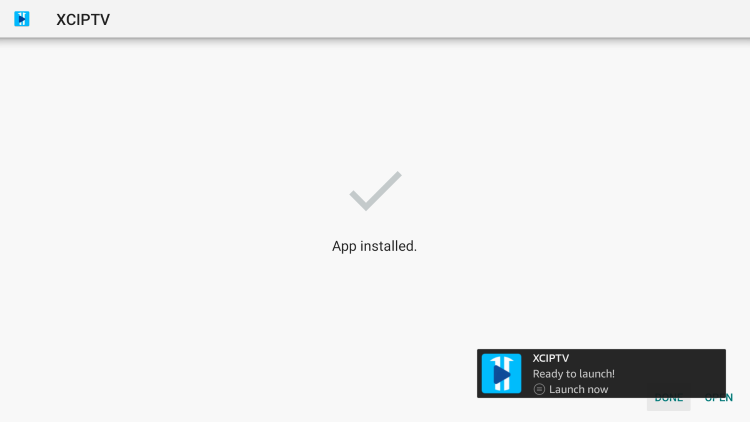 When clicking on Done you will see the Downloader app again with a lightbox having 3 options. From these options click on the Delete button.
In the next screen, you will be asked for confirmation so again click the Delete button and the app back up will be removed.
That's it now the XCIPTV App has been installed and the backup file is deleted, always keep in mind to delete the backup app after installing. It is because these apps can fill your device storage that could cause the device to overheat and once it starts heating you will face many issues like slow performance, buffering, app crashing, and so on.
However, you can access this app by going to the Your Apps & Games section or press and hold the Home button for a few seconds and click Apps. Now scroll down and at the bottom, you will see this app icon appears.
To move it to the front just hover on the icon and then press three horizontal line buttons (menu button) now on the right side below a menu will appear so from here click Move to Front.
How To Use XCIPTV App
This may look simple but still many people don't know how to use this app and that's the reason why I am writing this guide. Just in case you already know about this app then you can skip this section and move to another as it is for beginners only.
Ok, so as I already said earlier that this app is only used to access content and manage multiple accounts. However to use XCIPTV App make sure to have an already subscribed service or buy one from our picked top best IPTV Service Providers.
After you buy the service they will provide you with the username password and with M3U link (if it is supported) through email. If you haven't got the M3U link this means the provider you bought doesn't offer this feature so this app is useless for you.
Ok, so after getting all this information just follow the steps given below:
Launch XCIPTV App on Firestick either by going to Your Apps & Channels section or press & hold the Home button and then select Apps from the next screen.
Scroll down and you will see the app appears at the bottom so press select to launch it.
How to Setup XCIPTV
When first launching XCIPTV you are prompted to enter login information for your IPTV service.
As mentioned previously, this can be done through Xtreme Codes API or using an M3U URL. This information can usually be found within a confirmation email.
Enter your IPTV service login credentials and click Sign In when finished.
Click Allow.
Wait a minute or two for the media contents to load.
That's it! You have successfully set up XCIPTV APK with your preferred IPTV service.
XCIPTV Information & Features
XCIPTV is one of the most popular applications among those using the Firestick/Fire TV, Android, and other streaming devices.
This IPTV player offers some great features for being 100% free to use! These features include a favorites manager, external video player integration, picture settings, multi-screen, recording, and more.
Continue reading below for how to add channels to favorites and integrate external video players within XCIPTV.
How to Add Channels to Favorites
The ability to add channels to favorites is one of the best features within XCIPTV!
Follow the short guide below on how to add channels to favorites.
1.
Locate any channel your IPTV service offers and hold down the OK button on your remote.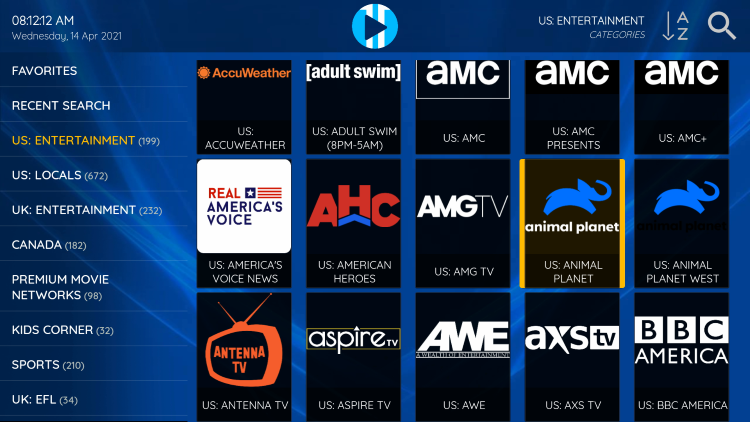 2. You should notice a star icon appear over the selected channel.
3. Return back to the channel category list and click Favorites.
4. Notice your selected channel is now located within your Favorites. To remove a channel hold down the OK button on your remote and the star icon will disappear.
5. You can now add/remove channels from Favorites within this IPTV player.
How to Add External Players
Another excellent feature of this IPTV player is the ability to add external video players.
Popular external players include MX Player, VLC, FX Player, and others.
In the example below, we show how to integrate VLC Media Player within XCIPTV.
1. From the home screen, click Settings on the bottom right.
2. Choose the Player option.
3. Select VLC Player.
4. Once VLC Player is highlighted click OK.
You can now integrate external video players within XCIPTV APK.
For more information on XCIPTV, refer to their official website below.
For more IPTV tutorials, be sure to check out our popular guides below.
Overall, if you use an IPTV service on a Firestick/Fire TV or Android device, give the XCIPTV APK a try today!
Frequently Asked Questions (FAQs)
In this guide, I have mentioned each and every step completely and also tell you about this app. But even after this you still want to ask anything then the given below faq list will surely help you out.
I have collected these questions from different platforms and found many people are asking for it already. In this way you can also get a relevant answer for yourself here but if this doesn't work then make sure to write your question in the comment section.
What is XCIPTV?
XCIPTV is a popular IPTV player that pairs with any IPTV service for an improved streaming experience.
Is XCIPTV APK Legal?
Yes. This app is 100% legal to install and use. It is available in the Google Play Store.
Is XCIPTV Safe?
Yes, this app is safe to install and use on any Fire TV or Android device.
What Devices can XCIPTV be Installed on?
This app is available for installation on any device that runs the Android operating system. This includes the Amazon Firestick, Fire TV, and any Android device.
What Does IPTV Stand For?
IPTV stands for Internet Protocol Television.
This is how you can set up the XCIPTV App for the first time and then start streaming your favourite channels, Movies and TV shows on your device.
Is XCIPTV App Free to Use?
Yes, XCIPTV App is free to use to manage all your IPTV services in one place however a paid version of this app is also available with various advanced features. If you don't want to buy it then there is no need for it as you can still use it at no cost and it will never ask for money as well.
Is Jailbreak Necessary to Install XCIPTV App on Firestick?
Yes, jailbreaking FireTV is highly recommended in case you want to install XCIPTV App on your Firestick. It is because this app isn't available on the App Store which means the only way to install it using sideloading. However, Amazon has prohibited its users from installing third-party apps but after jailbreak, we can easily install it using ES File Explorer or Downloader.
Can I Download XCIPTV App on My Android or iOS Device?
Yes, this application is available for both Android and for iOS Devices, to get it just open Google Play Store or App Store. Now in the search box type XCIPTV App and tap on the search button, then click the first result and then click on the Download or Get button.
Conclusion
This is the easiest guide that you can follow and install XCIPTV App on Firestick in a few minutes. All the steps that are provided here are quite easy as newbies can understand them.
If you are having issues with any step, just check out the screenshot attached below each step. It will surely help you out and then you will be able to install it instantly.